Kim Kardashian Before and After Plastic Surgery
Celebrities like to attract attention but they cannot unless they are flawless. They will literally do anything to ensure they have the best build, best figure, flawless skin and perfect measurements. They depend on cosmetic plastic surgery to achieve their beauty goals. While the surgeries go well in most cases, some celebrities have suffered failure with terrible repercussions. The funniest thing is that most of these celebrities who have had plastic surgery do not care to admit it. Kim Kardashian is no doubt one of the most beautiful American celebrities. The question most people ask is whether her beauty is natural or it has been enhanced by human intervention. The socialite herself has not openly admitted going through such procedures but rumors have been whirling around that she has undergone plastic surgical operations to enhance her facial beauty, shape and body measurements.
Did Kim Kardashian Need Plastic Surgery?
Kim was born 35 years ago meaning she must have started experiencing some symptoms of aging like fine lines, wrinkling, dark spots, dark circles under the eyes, fat deposits, receding hairlines and more. Well, this is subjective since people show the aging symptoms at different ages. However, Kim looks much younger than she really is. We may peg it on good life because she seems to have everything to live comfortable. Furthermore, the socialite became pregnant and carried the baby almost to term putting to bed five weeks before her due date. The changes that take place in the body during pregnancy such as weight gain, belly distension, fat redistribution and thinning of skin among others usually take time to clear and at times remain despite having given birth. If you look at Kim today, you will realize that there is absolutely nothing to remotely indicate that she has had a child.
Kim's Possible Plastic Surgical Procedures
From the above discussion, it is possible that the socialite had some plastic surgery to correct imperfections' in her body and to enhance her beauty. Kim admitted in 2014 that she actually did laser hair removal on her forehead when she noticed rising hairlines. She however reiterated that she never changed the shape of her hairline; she just got rid of all the baby hairs'. Another possible plastic surgical procedure Kim has undergone is rhinoplasty, commonly known as nose job. The beauty queen claims that it was a nifty makeup technique she used that altered the shape of her nose but practicing doctors agree that such change would only be possible with a proper cosmetic surgical procedure. The doctors noticed that her nose looked shorter, thinner and more refined when she entered into her acting and modeling career in 2007.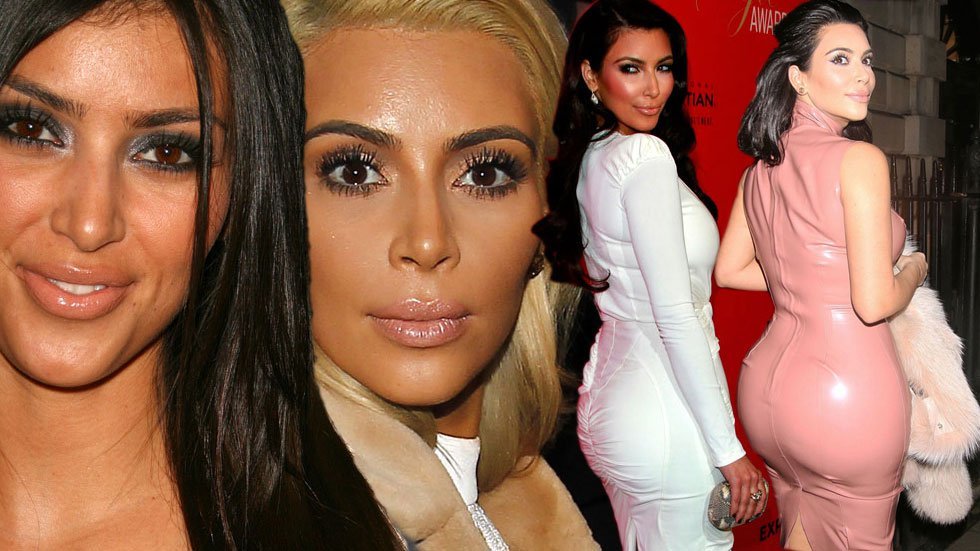 Kim Kardashian Before and After Plastic Surgery
Experienced eyes have it that Kim's flawless skin now looks much better than it did 9 years ago. The first signs of aging are usually seen on the skin. It is therefore a wonder that the socialite's skin tends to become better with age. It is believed that she has had several skin tightening treatments including laser treatments and chemical peels. According to an experienced and board certified plastic surgeon, the celeb might also have benefited from filler injections (such as with Volumna) in her cheeks. Evidence also indicates that the Keeping Up with the Kardashians star had Botox. She even showed herself getting Botox injection on her very own show. Doctors believe that the television and social media personality actually had surgical brow lift to arch and raise the brows. It also appears that the socialite had her lips plumped with fillers despite the fact that she denies it. If you look at her before and after plastic surgery photos, you might just realize it yourself. Those who are keen might have noticed Kim parading her sexy cleavage around. She says the big bust were the result of her pregnancy but most people believe that she has had a breast lift. The breasts also appear to be firmer that is expected for a woman of Kim's age. Nevertheless, the reality entertainer showed pictures of her having laser treatment to remove stretch marks after having her daughter. Perhaps the clearest evidence of Kim Kardashian before and after plastic surgery is in her most important assets, the butts. She actively denied having butt enhancement treatments and even had a doctor do an X-ray of her butts to prove her claims. However, a magazine reported in 2013 that the social media star had liposuction on her legs and moved the fat to her butts. This is probably why it the X-ray images never showed any butt implants.