How Much Does A Personal Chef Cost
Not everyone's born as an iron chef. A personal chef is a great need especially when we're only good in eating and not in cooking. How much does a personal chef cost? Why need a personal chef?
Most private chef works as freelancers in a family or in corporations. Their job is not as easy as it sounds like. Their skills are amazing, so amazing that they can make savory and mouthwatering food out of anything. A personal chef does everything in the kitchen but their fee is not the same as the bakers, butlers and other staffs. Their task is to make mindful preparation for the food of their client, whether it's for an individual, for a family or a group of people.
Personal Chef Price
Personal chef works in a various kind of environment. And it's important to get the right chef that can handle the kind that you're looking for, thus making private chef price unstable.
The main job of a personal chef is to prepare meals, shop for the food supplies, plan the menu based on client's demands, and cleaning the kitchen. And this may seem very easy, but it's not. Some of their clients are families of 5 or more with kids that demands food that they like.
According to the Payscale Salary survey for personal chefs, the typical hourly salary of a personal chef is $20.41 per hour. The location and career lenght is yet to be considered. Cost of personal chef vary depending whether their for one-time event or a regular private chef.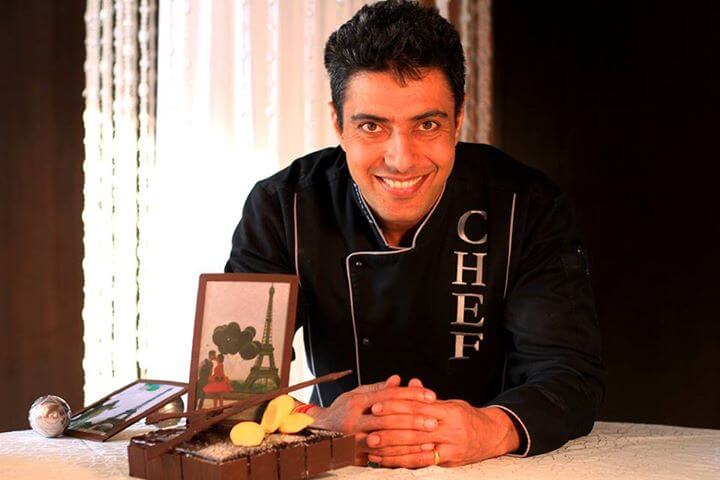 A buffet chef is hired only for catering a five-meal buffet with one dessert. Most of buffet chef charges $80 to $100, depending on the number of persons to be served. Some chefs are hired only for a specific event, requiring them to come, cook, and clean. They'll prepare anything from start to finish, charging the client a minimum fee of $100  to $130 per person, all inclusive, including the preparation, the plating and the cleaning. Some hire personal chefs for fancy evenings, their job is to prepare dish with an appropriate wine and making sure that clients will have a extemporaneous moment. Price ranges more than $250 per person. Not bad for special occassions.
In a regular basis, chefs' rate vary whether the job is per day, per week, or per annum basis. For day rates, the private chef cost ranges from $500 to $600 per day for the labor and the food cost. Weekly rate is approximately $2500 to $4000 that includes two meals per day in four to six days in a week. Some chefs are hired for yearly basis, starting from $110,000 and up. Food cost, other benefits, and accommodation is excluded and may be necessary to consider. Also, the longer the chef in culinary business, the more they get expensive but can surely give the taste perfect for your mouth.
The cost of private chef may vary whether they're in an agency or if they go freelance. Generally, the average daily hourly rate of personal chef is $30, private chef price in total of $180 per day based in a 6-hour work, excluding the benefits. Benefits include 1-2 weeks vacation and health insurance. For private chefs working full time, spending 40 to 45 hours per week, the average rate ranges from $50,000 to $85,000 per year. That's the total cost of a personal chef. It is very significant to search for the perfect iron chef with kitchen madness skills that can give you savory cuisines of your choice and perfect menu for the family. Hiring a private chef may be costly but it's practical especially for the busy individuals with very minimal time to cook for the fam. Personal chef may be expensive but nutritious and hygienic food is a big star guarantee.
There are also standard personal chefs service that are available online. It's a tap and swipe away from your smartphones. You may also search for agencies that can help you find the right personal chef for you. Personal chefs can be hired for only $375 a week with five meals consisting two servings good for two persons. Which, when calculated, can only cost $18 per serving per person. Superb in practicality with satisfying nutritional statements!
Personal Chef For You
You don't need to be a royalty or a multi-millionaire to have your private chef. In fact, private chef price is much lesser then eating in restaurants, as long as you find your Mr. Chef. Some even claimed food tastes even better if you have one preparing it for you, a professional and skillful personal chef.
The perks of having a personal chef is an all star. You can eat delicious food without compromising the health benefit. Plus, personal chefs can help you manage your diet well! You can both set food rules as of that having organic foods and the such, and it's cheap! Private chef costs mostly up to $130 a week, good for up to 10 meals which in average, will cost you only $10 a meal. Cost of private chef is reasonable for a fun bon appetit. In some cases, private chef leaves frozen foods in which the client can reheat. It's fast and still taste bud empowering.
Keep Your Pans!
Yes, personal chefs are bargain and thrifty in some ways, but it doesn't mean that you'll have to throw your pans away! There will be moments that you'll have to cook for yourself, and even for your loved ones. "The way to a man's heart is through his stomach," and having that in mind, cooking skills is still a major must-have to every individual. Food tastes better when you prepare it with love.