Sofía Vergara Plastic Surgery Before and After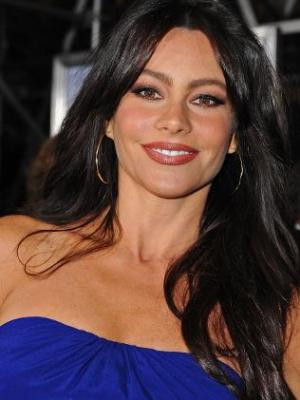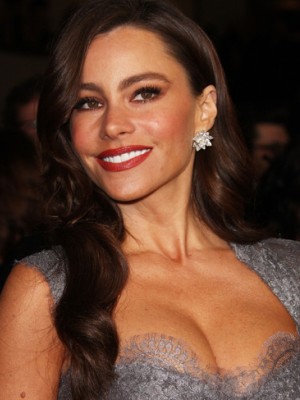 Early Career in Colombia and Success in Hollywood
Sofía Margarita Vergara Vergara, commonly known as Sofia Vergara, was born on July 10, 1972 in Barranquilla, Atlántico, Colombia to housewife Margarita Vergara Dávila de Vergara and Julio Enrique Vergara Robayo. At the age of 18, she got married but was divorced two years later. She then studied pre-dentistry in Colombia for three years.
Her modeling and acting career initially began after she was discovered by a photographer while walking on a beach. Soon after, she was offered modeling and television jobs. At the age of 17, she did her first commercial for Pepsi. At age 20, she moved to Bogotá, Colombia where she worked as a runway model and accepted television work as well.
From 1995 to 1998, she became known for her hosting job alongside Fernando Fiore in the television travel show Fuera de serie, which was aired in the international Univisión Spanish-language network. Her appearance in the show made her a household name in Latin America. After her contract with Univisión had expired, she signed with ABC network in the US.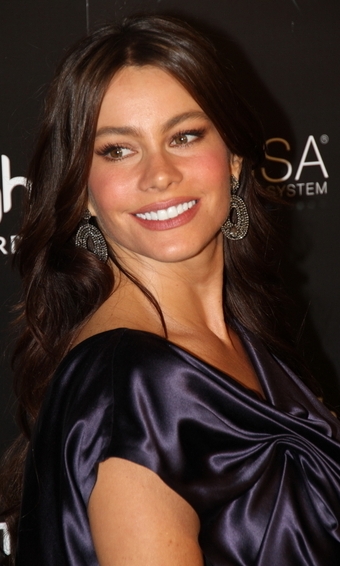 Her first appearance in an American television show was in Baywatch. During the next few years, she landed guest spots in such TV shows as My Wife and Kids, Eve and Rodney, before landing a regular role in the ABC sitcom Hot Properties, in which she played the role of Lola Hernandez. The show, however, was cancelled after one season.
In 2002, she made her film debut with Big Trouble. This was followed by roles in the films Chasing Papi (2003), The 24th Day (2004), Soul Plane (2004), Lords of Dogtown (2005), Four Brothers (2005), Grilled (2006), National Lampoon's Pledge This! (2006), Tyler Perry's Meet the Browns (2008) and Madea Goes to Jail (2009).
In 2007, she made a guest appearance in the HBO series Entourage. That same year, she was cast as Alicia Oviedo in the television series Amas de Casa Desesperadas, the Colombian version of Desperate Housewives. Shortly after, she played Esperanza Villalobos in another ABC comedy series The Knights of Prosperity. The show was pulled off after airing nine episodes and was eventually cancelled by ABC.
After The Knights of Prosperity, she appeared in a series of television shows, including Dirty Sexy Money, Fuego En La Sangre, Men in Trees and Dancing with the Stars. In 2009, she played Gloria Delgado-Pritchett in the ABC comedy series Modern Family, for which she achieved mainstream recognition, especially when the show premiered to critical acclaim and was watched by 12.6 million viewers.
Modern Family also garnered numerous acclaim, including the Emmy Award for Outstanding Comedy Series consecutively from 2010 to 2013. Vergara received acclaim for her performance as well, earning an Emmy nomination for Outstanding Supporting Actress In A Comedy Series in 2010. She continued to receive nominations for the same category in 2011, 2012 and 2013.
In 2011, she played Odile Anjelou in the family comedy film The Smurfs. Despite receiving negative reception from critics, the film proved to be a box office success, grossing $563,749,323 worldwide. That same year, she did voice work for the computer-animated film Puss in Boots. It was well-received by critics and was a success at the box office with a gross of over $554 million.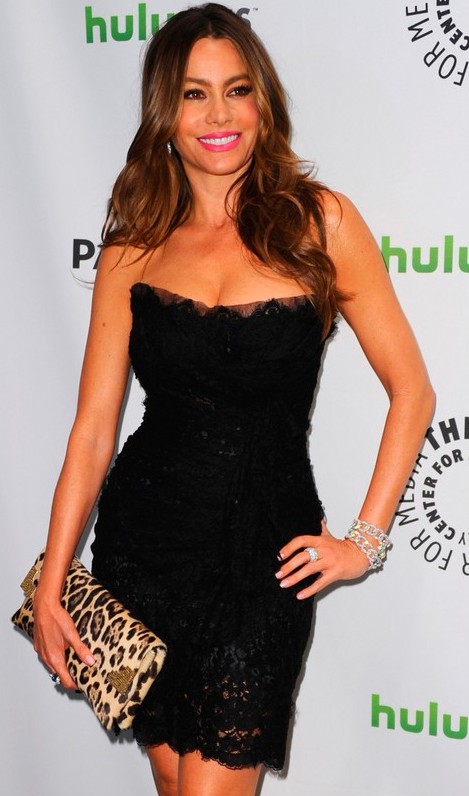 Subsequent Projects and Plastic Surgery
Later in 2011, she played a supporting role in the romantic comedy film New Year's Eve, which featured a large ensemble cast that includes Hilary Swank, Halle Berry, Jessica Biel, Robert De Niro, Lea Michele, Ashton Kutcher, Josh Duhamel and many others. It received unfavorable reviews but attained success at the box office with worldwide earnings of $142,044,638.
Her last film in 2011 was the family musical movie Happy Feet Two. In 2012, she played Lydia Harter in the slapstick comedy film The Three Stooges. Reception for the film was mixed and was a moderate box office success. In 2013, she starred in three films: Escape from Planet Earth, Machete Kills and Fading Gigolo.
Vergara has been receiving substantial amount of media attention since she became recognized for her acclaimed role in Modern Family. She has also been very active in numerous red carpet events, attracting further attention. In every occasion she attends to, there's one thing that people notice aside from her beautiful face, her voluptuous body with its greatest asset, her distinctively large breasts.
With this comes the rumors that the Colombian actress underwent a breast augmentation. However, the Emmy-nominated actress vehemently denied such reports, claiming that her large breasts were actually a nuisance and that she would like to have breast reductions.
However, the reduction process has yet to happen and now that Vergara is already 41, she's considering a breast lift instead. She said: "I am not there to look intelligent. I want to show all this off while I still have it. I already know I am going to get a breast lift. Then, maybe one day, when I am done with being sexy, I will just get rid of them."