Rani Mukherjee Favourite Things Food Color Perfume Cosmetics Movie Khan
Rani Mukherjee is one of those actresses inside the Bollywood planet whose name will always be written in the golden words. She is one of the talented and yet the most high-profile celebrities in India. Besides being the actress she has always acted in the media as being the traditional portrayal of women in Bollywood. In the year 1997 she started with the acting voyage with the film named as Raja Ki Ayegi Barat just by the force of her mother. Hence she gained acknowledgment for a supporting role in the romantic film named as Kuch Kuch Hota Hai in 1998. For the next three years she gives away many flop films but then in 2002 she impressed with superb acting in the film Saathhiya. She established herself out as being the top actress with the films Yuva and Veer Zara. In 2005 she ruled over the bollywood with the film Black.  She even takes part in manyhumanitarian causes and is vocal on the subject of issues faced by women and children. She is married to the filmmaker Aditya Chopra.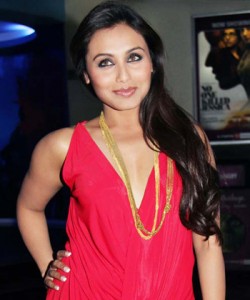 What To Know About Rani Mukherjee Favorite Things?
             Below we will be adding up the post with the list of the famous actress Rani Mukherjee favorite things:
Rani Mukherjee simply loves to spend maximum time with her niece whom she lovingly calls "Mishti".
Rani Mukherji hates when someone calls her with the title as being the Yash Raj Films heroine.
Rani Mukherjee favorite actors are Amitabh, Shahrukh and Aamir Khan
Rani Mukherjee favorite actresses are Sridevi, Madhuri Dixit, Rekha and Sharmila Tagore.
Rani Mukherjee favorite movies are Titanic and A Walk To Remember.
Rani Mukherjee  all the time favorite co-stars are Shahrukh , Salman and Kajol.
Rani Mukherjee favorite colors are red, blue black and purple.
Rani Mukherjee loves to eat Hyderbadi Biryani but above all she loves all kinds of food items that are made by her mother hands.
Rani Mukherjee loves to wear traditional dresses such as saree and salwar kameez.
Rani Mukherjee favorite perfumes are Gabaana, Dolce and Polo Sports.
Rani Mukherjee favorite holiday destinations are London, Paris and Sikkim.
So far Rani Mukherjee favorite accessory is the diamond ring which her father has gifted her.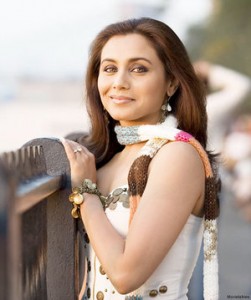 Well we hope that by the way of this post you must have got enough information about your favorite actress! Are you ready to make her likes and dislikes as your likes and dislikes?