Mukul Dwivedi wiki wikipedia,bio,Mathura's Martyr SP
Mukul Dwivedi wiki wikipedia,bio,Mathura's Martyr SP details.He along with SHO Santosh Kumar Yadav was a part of police team to evict illegal occupants of park in Mathura.Superitendent of police,Mukul Dwivedi was killed in clashes during clashes between police and encroachers during an anti-encroachment drive.Government of Uttar Pradesh has announced a compensation of Rs. 20 lakh to his family but her mother has rejecetd it saying "Mujhe paise nahi chahiye, CM mera beta lakar de dein (I don't want money, CM should bring my son back),"
"Humse le lein Mukhyamantri Rs 20 lakh, par mera beta wapas kar dein (the CM can take Rs 20 lakhs from us but please bring my son back),"
Mukul Dwivedi Profile :
Mukul Dwivedi was 1995 batch officer and he had joined Mathura police 7 months ago and he was a gem and was considered one of the finest in their police department.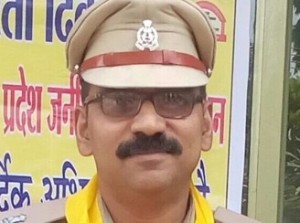 Name             :             Mukul Dwivedi
Rank              :             Superitendent of police
Department   :             Mathura Police department
Whole incident :
SP and SHO Santosh Kumar Yadav were attacked by Swadheen Bharat Subhash Sena (SBSS) activists who call themselves Satyagrahis.This whole incident had happened in Mathura's Jawahar Bagh area.21 people were killed in it.Country made guns,pistols,grenades,rifles etc. were recovered from that place.But according to media reports,police party was not fully prepared according to the place of dispute and thus resulted in huge loss.This was all about Mukul Dwivedi wiki wikipedia,bio,Mathura's Martyr SP.May his Soul rest in peace.