Lodha panel verdict announced| IPL 2013 corruption scandal verdict news full details|CSK and R.R banned for 2 years – GuidingHawk
Lodha panel verdict announced| IPL 2013 corruption scandal verdict news full details|CSK and R.R banned for 2 years
Justice Lodha Committe has announced their verdict on quantum of punishment on Raj kundra,Gurunath Meiyappan and their respective franchises.Gurunath Meiyappan is CEO of team CSK and Raj Kundra is the CEO of this verdict has to be announced for their involvement in IPL corruption scandal 2013.
About Lodha Committe :
On January 22,2015 Lodha Committe was formed after mudgal committe formed as investigator into IPL 2013 scandal.RM Lodha (retired cheif justice of india),Ashok Bhan and R.Raveendran are former chief justice of India are main members of this committe.
Verdict :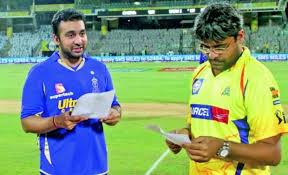 Justice Lodha : Meiyappan has been found guilty in 2013 fixing scandal.He has been banned for 5 years.Meiyappan cannot connect with any sort of cricket form for lifetime.Meiyappan has violated the rules of IPL and cricket.
Raj kundra has also been found guilty in IPL 2013 case.Kundra has also been punished with lifetime ban.
Both teams CSK and Rajasthan Royals have been banned for 2 years.now you would miss M.S. dhoni playing for CSK and some other big players like suresh raina,R ashwin etc.
This is one of the few cases when court acted quickly and had a strict action.