How Much Does A Trip To Singapore Cost
Recently, Singapore has been named the world's most expensive city, overtaking Zurich, Geneva, Paris and New York. The study looked at the rental costs of commercial and residential space for one person. But more than just its global labels, Singapore also boasts of beautiful attractions that have been gaining the attention of travelers from all over the world, making the city-state as one of the most visited countries. If you are planning to visit this place, how much does a trip to Singapore cost then?
Apparently, there is no standard Singapore trip cost since the amount depends on how long you are going to stay and how much you spend for one day. However, there are some travelers who have managed to use an average of $63.83 on a daily basis, covering the accommodation, food, transportation, sightseeing and miscellaneous costs.
If you are looking for an affordable Singapore vacation package price that includes your accommodation, then you search the internet or go to a credible and reliable travel agency.
Cost Breakdown
This article will provide you with estimated prices that you could spend while you are in Singapore with the assumption that you are already in the city-state. The cost for one day may range from $65 to $1,200. This does not include the price of the plane tickets since they vary from where you depart and the choice of your airline.
As for me, I was able to take advantage of a round-trip flight promo that was only around ₱3,000 ($65), which was more than half of the original minimum price of ₱8,500 ($182).
Moving on to the major expenses, this will present you the costs of accommodation, food, transportation and excursions on your Singapore trip.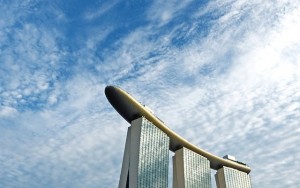 Accommodation
Although Singapore is known to be the world's most expensive city because of its high rental costs, it still has rooms that you can afford, making your Singapore trip cost a bit lower than how it should be. If you have availed of a Singapore vacation package price, then you already have a place to stay.
Moreover, it is of great advantage if you know someone who lives in the city-state since you can stay at his or her pad for a few days. But if you are on your own, then take your time to search for a budget accommodation. You can definitely find a guesthouse or a hostel that offers a dorm bed or a cheap room for only $20 to $40 a night. Since I was on a tight budget myself, I stayed in a hostel room for only $25 for one night
There are also mid-range hotels that offer double rooms, ranging from $140 to $250 per night. But if you belong to an elite society, then you can definitely afford an exquisite room at a four-star or five-star hotel between $250 to $700 a night.
Expenses on Food and Drinks
Apart from the high costs of the plane tickets and accommodation, expenses on food are relatively high as well. Singapore has a number of food establishments – restaurants inside the hotels, fast-food restaurants and food courts at the malls. If you are looking for street food so that you can save a bit from your Singapore trip cost, then I suggest that you prepare more than enough for your food budget since the country does not have a lot of street food stalls unlike Thailand, South Korea, Indonesia – just to name a few.
However, there are the Hawker Centers, which are almost similar to street food businesses. They are food courts that are located outside the buildings, operating in a  hygienic environment and offering meals at very affordable costs. Food sold at these centers only cost $6 each. Never leave Singapore without eating at a Hawker Center.
In cases when you want to spend more than the budget price, then you can opt for a dinner with two courses and a glass of wine for $60. Care for more drinks? You can go to a decent bar and order cocktail drinks for $15 to $20 for one drink. Having dinner at classy and high-end restaurants, on the other hand, is not that friendly since such eating establishments offer food, at least, $250 for one meal.
In your Singapore vacation package price, you already have an accommodation. Try to find out if it provides free breakfast and dinner for its guests.
Transportation
Singapore is not a big country. I mean, you can tour this clean city on foot without having to worry about your security. It also has public transportation, which is highly convenient when you want to go somewhere far from where you stay.
*MRT, LRT and Buses. Riding on trains is a worthwhile ride. It is cheap, costing around $0.80 to $2.20. If you avail of a prepaid EZ-Link Card, then your fare for every trip will receive a small discount. You can also use the same card on public buses. The card is a much more convenient way of paying than cash.
*Taxis. Whether you are a local or a foreigner, Singaporean taxis use their meters to determine the passenger's fare. The flag-down rate is $3 and an additional $0.50 for every kilometer following the first distance. You do not have to worry about scams or con-artists since there is no big news in relation to such unpleasant situations. But if you are not in a hurry, then it is best to enjoy the rides on the country's public transportation systems.
Excursions
The famous sight is the popular Merlion, which has a lion's head and fish's body. But apart from seeing and having a selfie with the iconic and popular Merlion, you can also do these following activities:
– foot reflexology for 30 minutes at the People's Park Complex for $15
– visits to well-known museums cost $6 to $10 for one ticket
– DUCKtours, which can travel on both and water, cost around $33
– cooking course at Food Playground for $99
– theater tickets cost $150 for one ticket