Dashrath Manjhi wiki,biography details|Mountain man's story,movie,family,satyamev jayate episode
Dashrath Manjhi wiki,biography details|Mountain man's story,movie,family,satyamev jayate episode
This world is full of wonders,but a living wonder existed in India yet remained unknown for a long time.Dashrath Manjhi is such a living wonder because he did something that is really hard to believe.Dashrath manjhi was a common man born in Bihar.He used to work as  labourer.
How Dashrath Manjhi became Mountain man ? :
Dashrath Manjhi's wife Falguni Devi could not get proper medical care and died as the nearest town was at 70 km distance away from the village because there was a mountain (Gehlaur hill) and people had to go around it.So he decided to carve a path through the hill so that people could get easier access to medical care in the town.While doing so he had to face a number of challenges,people called him mad and various other difficulties.But interestingly he was a one man army and completed his mission in 22 years with just a hammer and a chisel(would you believe that !!).This is how Dashrath Manjhi became Mountain man.Now lets have some basic details about Dashrath Manjhi.
BASIC DETAILS :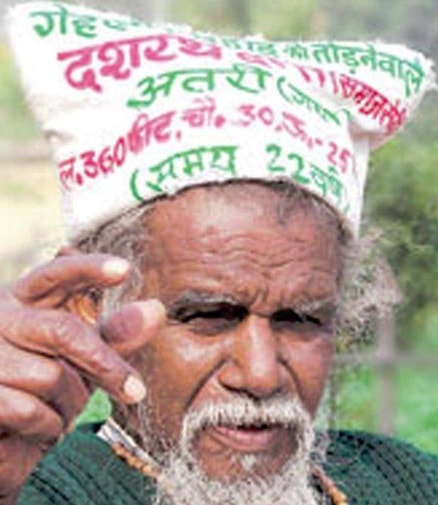 Dashrath manjhi was born in Gehlaur village,Bihar,India.He used to work at Dhanbad coal mines.He carved Gehlaur mountain and carved a path through it with dimensions 110m long,7.6m deep and 9.1m wide.He died due to gall bladder cancer at AIIMS,Delhi.
Name              :       Dashrath Manjhi
Born                :       1934
Wife                :        Falguni Devi
Known as        :       Mountain man
Known for       :       carving Gehlaur mountain and making a path through it.
Died                :        17 august,2007 (72 years)
News :
Dashrath manjhi came in news for his work and got famous through Aamir khan's show Satyamev Jayate.Now film actor Nawazuddin siddique is coming up with his movie manjhi.He will always be remembered for his will power and incredible work.This was all about Dashrath Manjhi wiki,biography details|Mountain man's story,movie,family,satyamev jayate episode.May his soul of this great man rest in peace.
Youtube :
Hope you enjoyed the article !!!
you may also like to read about:
Sujoy ghosh (director of Ahalya movie)
Ghost soldier of Indian army (Baba Harbhajan singh)
Radhe maa aka sukhwinder kaur details