How Much Does Wedding Dress Alterations Cost
Weddings are special, and while some brides are excited in looking for the perfect dress to say yes to, there are brides who would prefer having a wedding dress being altered for some reason that the dress could be an heirloom, or it's a bit big for their size. If altering a dress is your bet for your big day, you can ask around some families and friends for information on how much does wedding dress tailoring cost. Some wedding alterations are more major than others, however if this is what you have already planned on, try to make sure that you will not be spending too much for the wedding dress alteration cost. Otherwise, it would have been better if you bought a new dress instead of altering it.
Your Major Considerations
According to Brides.com, first things to consider when having to alter your wedding dress would be your timeline, your budget for the average price of wedding dress alterations, and your weight goal.
For first time brides, it is advisable that you already decide the kind of style you'd like your dress to be altered into. Would you want it to be the same style as it originally wans or would you like to make some changes with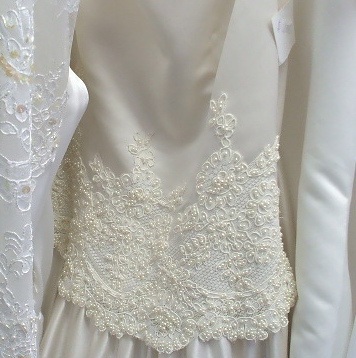 some parts of the dress such as the collar line, or sleeves or train? However you'd like your dress to look, try to make sure that you plan things in advance, perhaps like 10 – 12 months away. The reason why it cannot be rushed, is because it will take around 16 – 20 weeks for the salon to receive your order and you will have to expect three fittings for the dress. Major dress changes will need a few extra weeks before it could be done.
According to bridal dress experts, some salons would charge their clients a per service basis for the alteration, while others would charge a flat fee. If you have been charged for a per service basis, your wedding gown expenses could add up.  Example, usual wedding dress alterations cost for a seam alteration is around $150 dollars while having to shorten the gown will cost you $250. Changes in the design is an average price of wedding dress alterations for around $50 dollars for a neckline design, and also you will need to factor in beading costs, and changing of fabric or reshaping the silhouette of the dress.
You also have to be realistic when it comes to your weight goal on your wedding day. You will not want to wear something that doesn't fit right on you. If a dress you are wearing is larger than your size looks awful, how much more would it be if it is smaller than you? Corsets are there to help but what if things go wrong or if it really couldn't be helped? The best way to cover up for those extra pounds it to try an A line dress. Factor this into your average price of wedding dress alterations also.
Realistically, a bride who does not need any alterations is an unusual bride. Even if it's a new dress, most wedding dresses will still need to be altered to fit the size of the bride, so on top of the price that you paid for a new dress, you will still need to be prepared for an extra $75 to $250 dollars for the wedding dress alterations cost.
If you are the kind of bride who makes considerations on your budget, you can always count on a friend or a family member who is competent in being seamstress. Lucky you if you have them, because you can definitely save on how much does wedding dress tailoring cost, if you know someone who knows how to help you with your dress situation. However, not all dress can be altered. Before deciding on a wedding dress, check on the interior designing of it if there would be any possibilities that it can be altered to the style and size for you. If it can, then good, it the seamstress cannot do much about it, then it would be much better that you find a new dress instead of having to pay for the average price of wedding dress alterations.
Wedding Dress Tips
While alteration of your wedding dress is in the process and you will need to have the fitting, one best guidelines that wedding experts suggest is that, you should be able to try your wedding dress on, without your make-up on. This is to avoid soiling your dress, so you will need to be clean as much as possible.  Also, since during fitting, you will be partially dressed while taking some dresses on and off, it is also advised that you wear your nicest underwear, as you would not want to get caught wearing a tattered undies while in the salon. Another great tip during fitting is that you wear the bra and shoes that you decided to wear on your wedding. Some brides would have their fitting first before getting the right shoes and sometimes it spells disaster on little details. It is strongly advised by the seamstresses that you have to buy your shoes before requesting to hem your dress otherwise you'll just spend more on how much does wedding dress tailoring cost.
Another rules of thumb for wedding dress alterations cost is that if you are wearing your mother's wedding dress, be prepared to go through a lot of things that will make it fit you. You have to pay good money for such a dress and would hope that wearing your mother's dress would make you happy as much as it will make her happy. However if you decide on a new wedding dress instead of having an old one, try to buy one that already is a correct size for you. The wedding dress alterations cost for a large dress to make it small is way better and more value for your money, than having to enlarge a dress that is already small. You may run the risk of not liking the fit after all. It's also not right to buy one size larger as it will cost you more for the alterations.