How Much Does Phlebotomy Training Cost
A phlebotomist is a healthcare professional who is trained to draw blood from patients. They get blood samples for a wide range of reasons  like health tests, donations, etc. Before you can become a phlebotomist, you need to have education, training and have a certification. If you are thinking of choosing this career path, you have to undergo training. How much does phlebotomy training cost? The cost would depend on several factors.
After you undergo with the training, you should be able to possess the necessary knowledge and skills to do the job. A phlebotomist needs to be accurate especially since your job is to draw blood from patients. If you aren't careful, there is a tendency that you might insure your patient. Another important skill is to have good communication and organizational skills.
Phlebotomy Certification Cost
The phlebotomy training cost would vary considering that training also differ depending on the location. States have different requirements when it comes to the skills. If you are lucky, you do not have to shoulder the phlebotomy certification cost as there is actually free training available.
How much does phlebotomy training cost? Let's take a look at the cost of the training depending on the program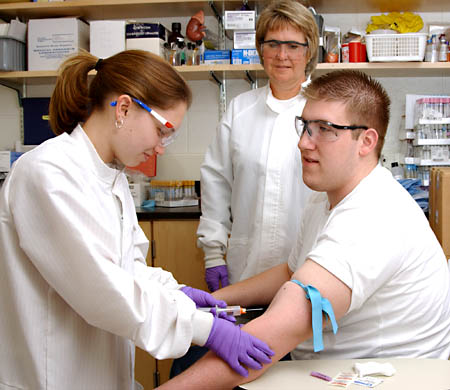 and the specific institution where the training is being offered. When you take the phlebotomy training in community colleges, the rate is per hour and the tuition fee is either charged by outside or current state. For you to fall under the current state category, you reside in that state for 2 years or more. The price of phlebotomy course is from $600 to $2500. This training last for about 8 months and apart from paying for the course, you need to pay for the certification as well. The fee is about $50. There are technical colleges that would include phlebotomy course in their program which can cost as high as $29,999.
How much does phlebotomy training cost at a technical school? The average cost ranges from $700 to $1400. The good thing is that there are schools in which the tuition fees already have inclusions. For instance, if you take a short term course, the $800 fee already covers the lab fees and the books. For the same price, the American Society for Phlebotomy Technicians provides the same program. You just have to pay for the membership fee of $35 and the cost of the textbook at $40.
How much does phlebotomy training cost at a private facility? If you want to gain more experience or if you simply want to have a new career, you have the option to study at a private facility. The only downside is that the cost is way much higher. In fact, the price of phlebotomy course can go as high as $2000. The basic class which lasts about 20 hours costs $550. The advanced and clinical class costs $550 and $675 respectively. You also have to shoulder a registration fee amounting to $250. This fee is non-refundable. To be part of the program, you need to deposit about $616. This already covers the cost of the textbook.
Online Learning
With the development in technology, it is now possible that you go for online learning options. There are phlebotomy training courses available online. One of the main advantages is that the phlebotomy training cost is cheaper. When you choose to study online, the cost ranges from  $300 to $700. The Family Health Services Training Center offers basic as well as advanced courses that amount to $600. But you also need to keep in mind that you have to shoulder additional costs. You need to pay for the certification amounting to $50. The cost of getting a national certificate is much more expensive which ranges from $80 to $150. If you want to get a certification from the National Phlebotomy Association, the cost is $130. Apart from these costs, you also need to have phlebotomy training kits. The complete kit costs $300.
Searching for a Training Facility
Since you will be paying a lot for the phlebotomy training cost, you would definitely want to get the most out of the training so you can be equipped with the knowledge and skills that you need to secure a job and to be good at what you are doing.
What are the things that you should consider prior to enrolling in an institution? Keep in mind that most states need phlebotomists to have a license. So, it is very important that you enroll in a training program that meets the requirements of the state. Take the time to look at the curriculum and see if it meets the guidelines. In as much as you want to reduce costs, you have to enroll in a program that will not just prepare for your exams but as well as for the actual job.
You should also check if the training facility is accredited by the state. If not, it will all be a waste. To help you search for schools accredited by the hospital/state, you can check the National Accrediting Agency for Clinical Laboratory Sciences. How about for online schools? Nowadays, there are a lot of people who prefer to go for online schools. In choosing this option, you need to consider two things which include the laboratory requirements and practicum. Look at the program and the materials included.
Being a phlebotomist requires you to invest. To get a good job and to be an efficient one, it is very important that you are careful when it comes to choosing the training program and the institution. At the end of the day, these costs are considered to be valuable investment. You get to have training that will prepare you in your career and become a phlebotomist. Eventually, you can add more training and gain more experience in your chosen career path.