Chris Brown Daughter Son Sister Siblings
Christopher Maurice Brown, popularly known as Chris Brown, is a renowned singer in the entertainment industry. He was born on 5th May 1989 in Virginia. He is also a songwriter, dancer, actor and rapper. He has featured in a handful of movies that have incorporated his dancing skills, one of such is 2007 movie Stomp the Yard. Over the years, he has released many hit singles and albums and have collaborated with many top acts.
Breezy has a plethora of accolades to show for his success in the music industry. Apart from music, Brown also banks from endorsement deals as well as his own luxury fashion line called Pyramid. All of these leaves his net worth at $30 million.
Chris Brown Daughter
Though not married yet, Chris Brown revealed on his Instagram page in May 2015 that he was the father of a 1-year-old girl named Royalty. His baby mama identified as Nia Guzman is a nursing student and model resident in Texas. However, Breezy only learnt about his daughter at the time he revealed her as his baby mama hid her away claiming that Breezy wasn't ready. When asked about the reason in an exclusive interview with Latina Magazine, she said;
"It was just on both parts. I knew what the outcome was going to be once it came out. I was very fearful for… everything that's going on now. I know that he's young, he's wild, and he has the bad boy persona, and I just knew that it just wasn't going to be the best situation. And if I could have still kept it quiet until now, I would have."
Apparently, she was right, the news of Chris Brown's daughter Royalty have been followed by strings of controversies. First was with the issue of paternity; before Breezy came into the picture, another man known as King Ba (real name Brazil Riesling) was supposedly acting as Royalty's father. King Ba claimed that Royalty's mother, Nia Guzman whom he was dating at the time told him that he was Royalty's daddy. However, a paternity test confirmed Chris Brown as the father. On the other hand, King Ba was later arrested for forgery and fraudulent charges.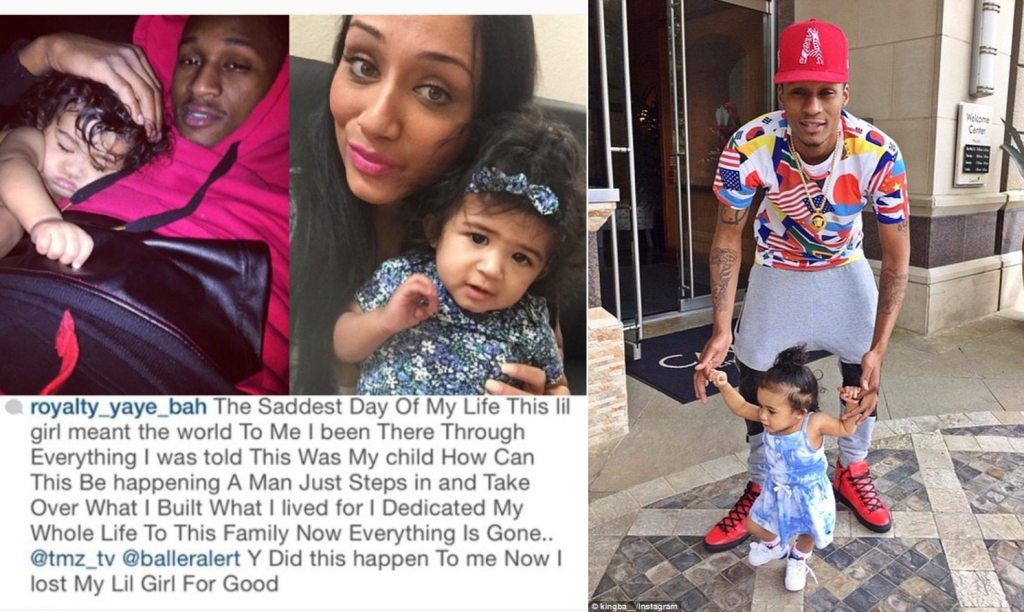 Next up was the issue of child support. Nia Guzman filled allegations against Brown claiming that he wasn't living up to his daddy duties. Guzman claimed Brown was unfit to take care of their daughter as a result of his gang affiliation and drug use. She also requested that her child support payment be increased from $2,500 to $16,000.
However, the court in May 2016 ruled in favor of Brown, refusing to increase the child support payment and also granting him 12 days a month unsupervised custody of their daughter.
The parents have countless times had a go at each other on social media. One of such was when Guzman dressed their daughter in a tutu and leg warmers for her dance classes. Chris got furious and took to her Instagram page to lash out at her.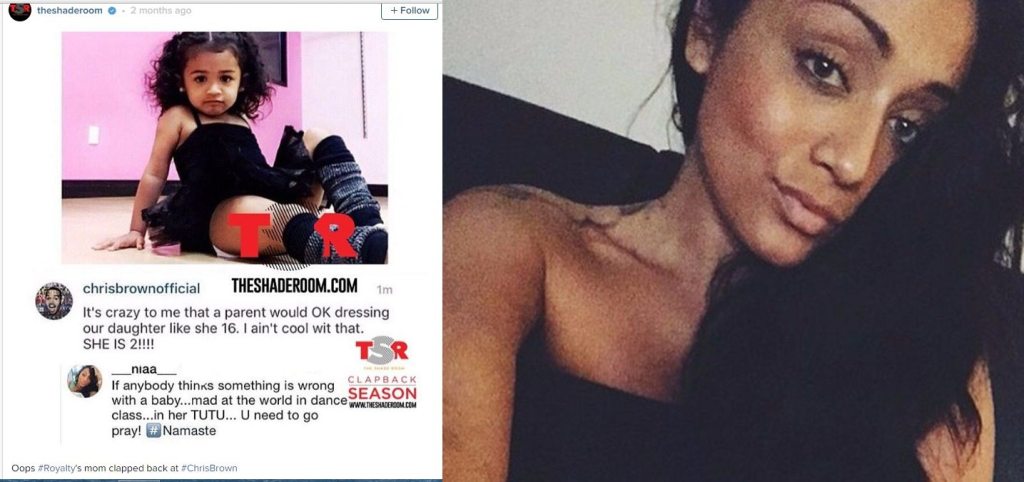 Another was when Breezy criticized her interview with Latin magazine which came right after she had lost the child support case. Breezy wrote on the comment section of her Instagram;
"You lost the case and wanna be petty!…Can anyone tell me where this woman works? Can someone show proof of ownership on anything thing! I take care of damn near everyone in my life and I know I DO AMAZING WITH MY DAUGHTER! Just LIKE IM PAYING FOR THE BDAY PARTY YOU ARE THROWING! 30k!!!!!! Honestly act your age…That's damn near 15 years older than me!"
Shortly after, Guzman replied saying;
"LITTLE F–KING BOY!!!! Try 5 years older! IM THE MOTHER OF YOUR CHILD! Respect your f–king elders! I'm tired of this online petty s–t!! I LOST NOTHING BECAUSE I NEVER TRIED TAKING OUR DAUGHTER AWAY….I SIMPLY WANTED A MONITOR FOR YOUR CERTAIN ADDICTIONS…YOU CHOSE ME…YOU CHOSE TO LAY WITH ME…"
Their comments were later deleted but was up long enough for fans to get a sneak peek.
Despite the allegations on Chris by his baby mama, Chris just like he said, seems to be doing Ok with his daughter, Royalty.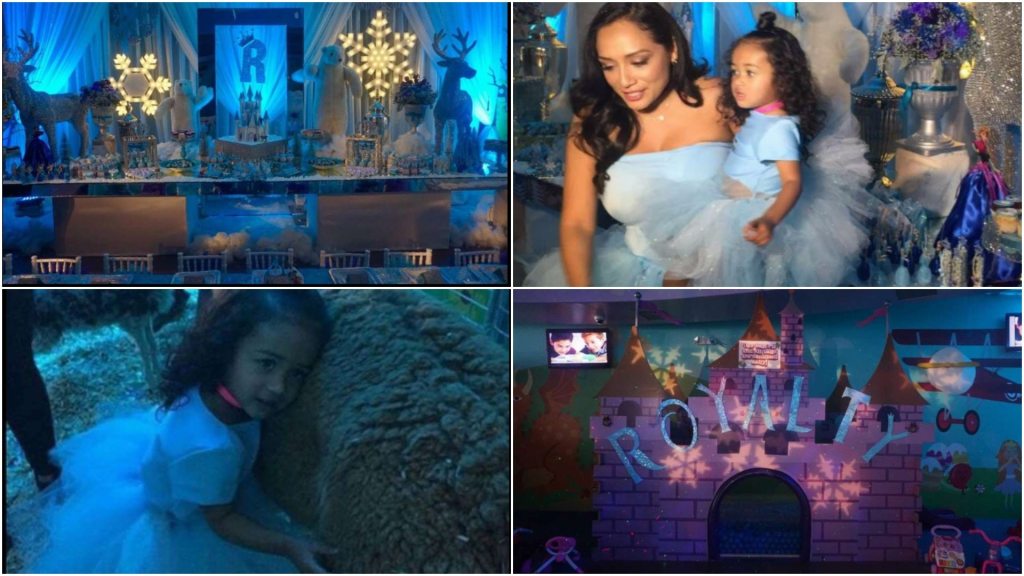 Breezy has made his love for Royalty evident in many ways, like the $30,000 Disney's Frozen-themed party he threw for her 2nd birthday on 27th May, 2016.
Royalty is apparently living the rich kid life. Her millionaire daddy makes her miniaturized car models to match his luxury cars and they reportedly cost $2,500 each.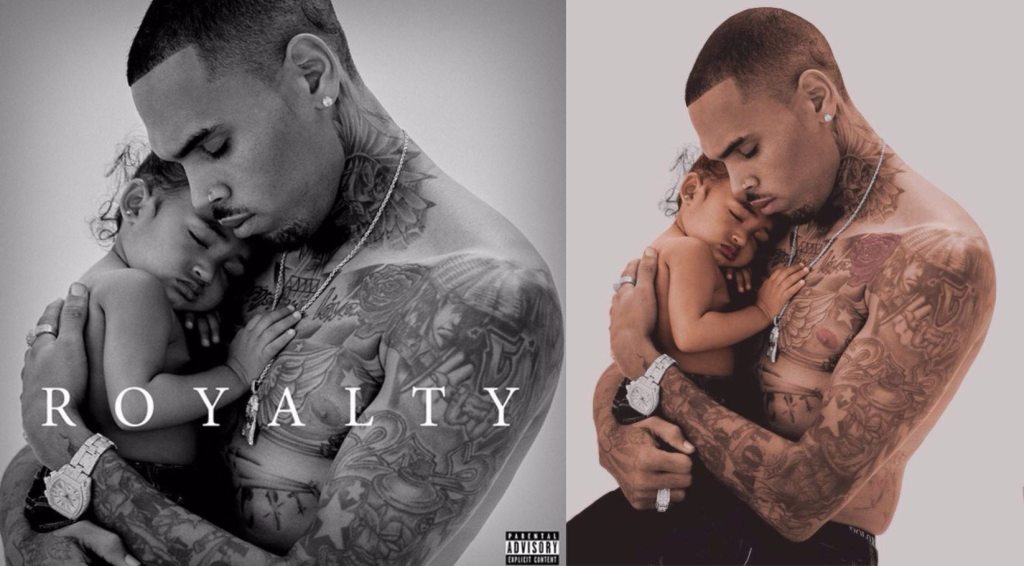 Breezy also named his 7th studio album Royalty after his daughter. The cover art of the album (pictured) shows Royalty sleeping peacefully in her father's arms.
Chris Brown also doesn't spare any opportunity to flaunt his daughter; he takes her along to his stage performances and has his Instagram page filled with her pictures.
Chris Brown Sister Siblings
Chris Brown does not have any other sibling beside his sister Lytrell Bundy who is a banker. Unlike her parents, Lytrell shies away from social media. She's done a good job keeping away from the public eye as no photos of her is publicly available.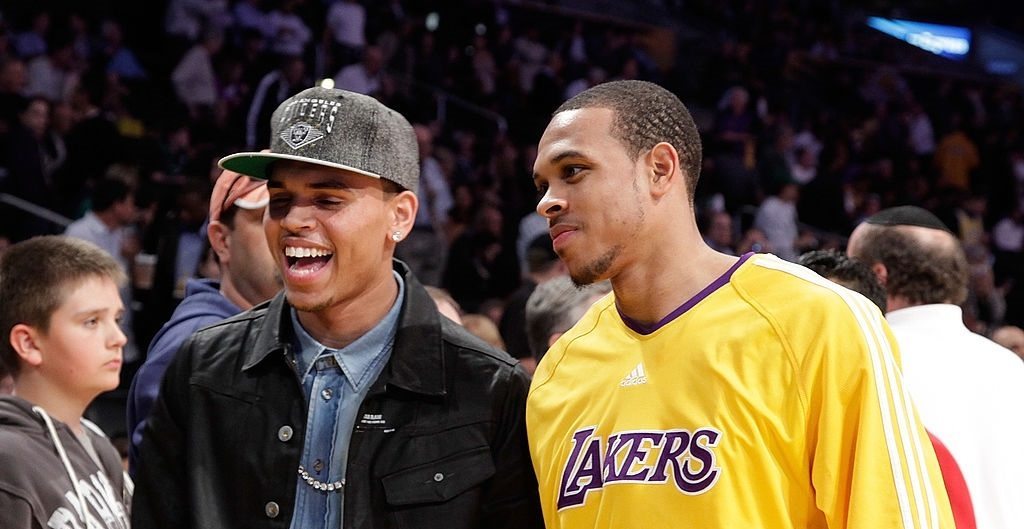 Sometime back, there were rumors that NBA player Shannon Brown was Chris' brother because of their striking resemblance and same surname but these were only rumors. Though the pair have been spotted together a number of times, they are only friends.