Adnan Siddiqui wiki wikipedia,bio,image,age
Adnan Siddiqui wiki wikipedia,bio,image,age.Adnan Siddiqui is a Pakistani model and television actor.He has appeared in many commercials and drama serials like Uroosa,pal do pal ,meri adhoori mohabbat,meri zaat zara-e-benishan,doraha,hawa rait aur aangan,choti si kahani,vasi and parsa.He started his filming career in the 1990s;he become notable for being cast in the popular drama Uroosa .He is one of the famous travel reality shows of the time Gulls and guys.In 2010,he won best supporting actor award for Ishq junoon deewangi on Pakistani media award.His first debut in Pakistani film yalghaar.
Profile
He has two daughters Marium and Dani.He was born on 23 october,1969 in karachi.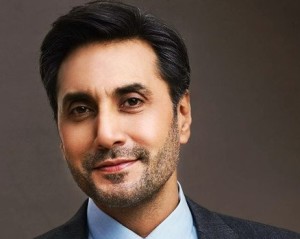 Born                23 October,1969
Karachi,sindh,Pakistan
Nationality      Pakistani
Occupation     TV actor,film actor,model
In news:
siddiqui is going to debut in bollywood alongside veteran Indian actress Sridevi in movie "MOM",a daily report.
Siddiqui will play the role of sridevi's husband.Sridevi,who is also the producer,will play a lead role in this women centric film,the daily times said.Nawazuddin siddiqui will have a special appearance.The"mom" team is now shooting in GEORGIA.Adnan also played a small role alongside actress and film-maker Angelina Jolie and actor Irrfan khan in the 2007 film "A mighty heart"
In interview he said that "fashion modelling made me an entrance to the field of showbiz and without my mentors I am incomplete.Fifa haroon introduced me on brochures and my first photo shoot was with Arif mahmood.The first person who applied any kind of make up on my face was Tariq Amin.Shahzad nawaz introduced me to ramp modelling whereas Freiha Altaf is the lady who groomed me as a model".Never to forget Arshad tareen who made me a cover page model through his magazine.My career will be nothing without Anwar maqsood,with whom I did al my initial long plays and serials,Fatima Suriya Baija,the creator of my role in Uroosa,and Qasim Jillani,the director of all my initial plays,he added.